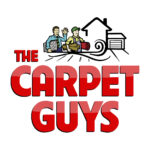 Website The Carpet Guys
Soft and Hard surface flooring provider
Are you ready to start a full-time new career with flexible day and afternoon hours that is fun, fast paced and filled with excitement? Do you want the pay you deserve with advancement opportunities? If so, we want to talk to you today!
The Carpet Guys is family owned and is one of the top flooring companies in Michigan and rapidly-growing, therefore providing incredible growth opportunities for current and future employees.
We provide you the best paid training to give you the tools to succeed and grow quickly within the company. Previous SALES and OFFICE experience a must. Flooring or home improvement experience is a HUGE plus.
What we will give you:
· Starting wage is $35,000.00 per year with weekly performance bonuses. Expected income for a successful Sales Support Representative can be in the range of $55-65k or more per year.
· Paid training
· Medical, dental, vision and life insurance
· Paid time off
· Tuition reimbursement
· Referral program
As a Sales Support professional you will:
· Support our walk-in customers, Home owners that call-in and our Sales Professionals
· Help to close sales over the phone
· Respond to inquiries regarding scheduling, product line, pricing, policies and billing.
· Monitor the performance and productivity of the outside sales associates to ensure daily goals are reached
Preferred requirements:
· Minimum 2 years Sales and Administrative experience
· Proficiency with Microsoft office/Suites and the ability to learn industry specific software
· Organizational skills, great phone and email etiquette with a pleasant and friendly personality.
· Must be at least 18 years of age
· Valid driver license with reliable transportation
This position is in our office in Troy with varied hours. We are open 8 am until 10 pm weekdays with slightly reduced hours on the weekends. Your availability needs to be open for days, nights and weekends however we will be happy to try an accommodate your scheduling needs.
If you are outgoing, friendly and dynamic and feel this is the perfect opportunity and you want to learn more, then we want to hear from you TODAY! Submit your resume for immediate consideration.