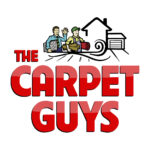 Website The Carpet Guys
THE CARPET GUYS
Michigan's most trusted CARPET & FLOORING specialist is expanding to the Chicagoland area in early June 2023 and are looking for a Sales Manager and Assistant Managers.
We are seeking a motivated and knowledgeable Sales Manager and Assistant Sales Managers with experience in flooring sales and in-home flooring sales. These individuals will be responsible for the oversight and development of our Sales Team to drive company revenue.
Responsibilities:
Oversee and coordinate the sales team activities
Lead weekly sales meetings
Plan training events for Sales Team
Be well versed in flooring trends and have the ability to properly communicate with both sales team, staff and customers
Analyze sales statistics to identify areas of improvement
Track results and trends regularly for business forecasting
Report on team and individual performance
Develop and execute innovative sales strategies
Build and form new partnerships with potential clients
Communicate clearly and effectively with corporate office
Qualifications:
Previous experience in flooring sales
Previous Sales Management experience
Familiarity with CRM platforms
Strong leadership qualities
Ability to build rapport with clients
Previous experience in RFMS software a plus
This is a salary position (based on experience) with bonus opportunity. Full Benefits available including Health, dental, vision, life insurance and paid time off.